---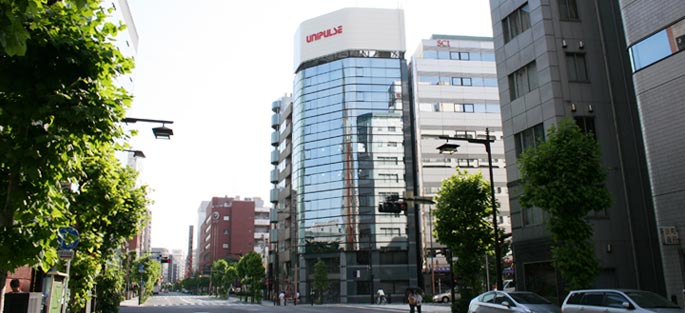 President's Message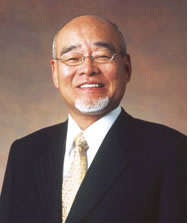 Our company was originally established to create "unique" products using our "pulse" (digital) circuit technologies, and thus, named "Unipulse." At the beginning (in 1970's), we started with communication devices and electronics for measurement and control system. But, those products were simply made to order as per requirements of our customers. Thus, we decided to develop our own products to increase revenue in larger markets, and weighing indicators for load cells were developed to meet demands of industrial scale manufacturers Since then, we have introduced various products to the world as a company founded by an engineer. In 1998, I decided to list the company on the stock exchange to improve our business environment. On the other hand, we could not develop any creative products during the time, and our company stagnated in that sense. During the period, our products earned good reputation, and financial situation was stable. Meanwhile, there were various changes in the environment surrounding our company, and the desire to delist the company from the stock exchange became larger. Therefore, I conducted a management-buy-out (MOB) to end the period spanning over 15 years as a listed company and reorganized the structure of the company at the same time. As a result, new products like torque meters, high stiffness load cells, own strain gauges, grip force meters, multi-axis sensors, UNISERVO (geared servo motor with capability to measure output torque), robots capable of controlling output force, electric balancers , and various kinds of robots were developed one after another. Business related to UNISERVO, Robots and Balancers is expected to be bit different from UNIPULSE.'s business. That is why a subsidiary company "ROBOTEC Inc." was established to take over the business. This period is the 2nd foundation period for Unipulse, and I will promote the reform to change it better for our customers and employees. Our new subsidiary company, Robotec, also keep introducing latest and innovative technologies to Japan and the world as well. We truly appreciate your support for further growth of UNIPULSE group.
Unipulse Corporation
President and Technical General Manager

Business Outline
Unipulse is a sensor manufacturer.
We manufacture sensors such as loadcells and torque meters using our high-accuracy strain gauges. Our weighing indicators are widely used for auto-weighing machines such as Dosing machines, Filling machines, Packer scale, Hopper scale, Weigh bridges, Belt weighers and so on.
Rotating torque sensor is a newly developed hit-item. It is used to test rotational parts such as motors and engines.
Above mentioned Weighing indicators, Force indicators, Loadcells and Torque meters make up the majority of our sales.
In addition, Unipulse has CMS (Cart management system) business as well.
CMS (Car management system) is a sorting system used for logistics, our technology is leveraged for a cart which has an accurate weight scale.
Our CMS enables speedy and accurate sorting by giving appropriate instructions to operators via wireless LAN.
Direct selling (without depending on trading companies) is our primary sales approach to be a close partner for our customers.
We also cover oversea market with sales office located in key countries, providing repair services and so on.
To supply and develop our new products, "UNISERVO (Geared servo motor with output torque control)" and "MoonLifter (Electric balancer)", ROBOTEC Inc. was established.
Product category
Strain gauge
An element that converts strain into electrical signal when a load is applied to its housing. It is used as a load detector for UNIPULSE's Loadcell, Torque meter, Clamp meter and Pressure meter.
Rotating torque meter
Our torque sensors are used to detect torque applied to rotating shafts, mainly used for testing motors, engines, and other rotary components. Those are available in wide capacity ranges from 0.05Nm to 10000Nm, and we have drip-proof type as well.
We also offer various instruments for monitoring torques, including (but not limited to) a USB interface for PC connection, digital indicators to monitor torque, rotation speed, and power simultaneously, and a power and energy monitor for motor test benches.
Load cell
Load cells are sensors used to measure weight or force, available in capacity ranging from 100g (1N) to 100ton (1MN) or even above. Load cells are normally connected to digital indicators for practical use.
Weighing measurement
Weighing indicators are used with load cells to configure and control automated weighing systems like batching machines, weight fillers, packer scales, hopper scales, truck scales, constant-feeding belt scale, and so on.
Force measurement
Our digital indicators are used with load cells to monitor force applied in assembly operations like press-fitting and riveting for automated quality check (OK/not OK evaluation) of products.
Data logger
The following is a list of data loggers that can be used for collecting various data in the field such as temperature, humidity, water level, precise displacement and so on.
Amplifiers/Peripherals
Amplifiers for load cells and other strain gauge type sensors, printer, recorders, etc….
Displacement measurement
Our displacement sensor product line includes capacitive type with 1nm resolution and non-contact fiber optic type with 3MHz bandwidth. Those are used for ultra-precision positioning, gap measurement, runout measurement, flatness measurement, vibration measurement, and more.
Vibration measurement
Our vibration monitors enable measurement of vibration magnitude, real-time analysis of frequency, pass/fail test of vibration level at specified frequency range, and so on.
Piezo type accelerometers or capacitive displacement sensors are used for this application.
UNISERVO
A geared servo motor with output torque control & Sensing capability. Since UNISERVO is capable of angle and output torque control, it can be used in robotic systems as human friendly actuators. (ROBOTEC's product)
Moon Lifter
Electric Balancer. Moon Lifter allows you to handle heavy components (60kg – 480kg) easily with your hands. It strongly supports the precise assembly of heavy components.(ROBOTEC's product)
Corporate Profile
Corporate Profile
Unipulse Corporation
Established
April 1, 1970
Capital
95.00 million yen
Revenue
About 5.5 billion yen(September, 2020)
Representative
Takami Yoshimoto, President and Technical General Manager
Number of Employees
About 150
Business Description
Manufacturing and sales of strain gauge type sensors (for measuring forces, displacements, torques, vibrations, etc…), optoelectronic devices, mechatronic devices, and electronic devices
Head Office
Nihonbashi Hisamatsucho, Chuo-ku, Tokyo
Technical Center
Koshigaya City, Saitama
Sensor Factory
Koshigaya City, Saitama
Sales Offices
Nagoya, Osaka, Hiroshima
Subsidiaries
ROBOTEC Inc.
Unipulse Trading (Wuxi) Co., Ltd.
Overseas sales branches
Unipulse Instruments Thailand(Bangkok,Thailand)
Unipulse Instruments Pvt. Ltd.(New Delhi,India)
UNISOLUTIONS(Poland)
Corporate History
A.C
Corporate History
Products
1970
Unipulse Corporation was established by Mr. Takami Yoshimoto with the capital stock of 1 million JPY, and the head quarter was located at 1-Koraku, Bunkyo-ku, Tokyo.
Control devices・Power supply devices・Communication devices
1972
The office was re-located to 2-chome, Chiyoda-ku, Tokyo, and the manufacturing of custom-made industrial measurement systems (equipments), and communication devices was started.
Microwave devices and test devices for shipbuilding companies
1974
Signal conditioners and indicators for load cells under our own brand were launched and the business was expanded to the weighing industry.
Fully automated nailing machines for pachinko machines、Data processing devices for material testing machines 、Parking fees calculation systems、Fruits grading/sorting machines
1977
Computers for software development were first introduced, and microcomputers (8080 & 8085A) were used to improve the performance of products.
F300、F400、AM53
1979
A manufacturing facility was established in Koshigaya-city, Saitama, and mass production was started, and the sales of products under our own brand started to increase dramatically.
1981
The headquarter office was relocated to Sengendai-Nishi 2-chome, Koshigaya City, Saitama.
AM55、LC610、F230、U20
1985
The headquarter building was constructed, and the production capacity was expanded.
U200、LC612、AM20、
F330、U300、F252、
LC240、AM30
1986
Nagoya Sales Office was opened in Heian-Dori, Kita-ku, Nagoya City.
F360
1989
Another building for production was constructed nearby the headquarter office.
F272、F270II
1990
Hiroshima Sales Office was opened in Funairi-Honmachi, Naka-ku, Hiroshima City, and Fukuoka Sales Office was opened in Hakataeki-Minami, Hakata-ku, Fukuoka City.
F362、F800
1993
Osaka Sales Office was opened by Shin-Osaka Station in Yodogawa-ku, Osaka.
F850
1994
The capital was increased to 521.5 million yen, and Rakuzantei was opened in Lake Hatori Highland, Fukushima, as a recreational facility for employees.
F340、F740
1997
The capital was increased to 714.34 million yen.
CMS cart management system was developed.
1998
Stocks were listed on the OTC market, and the capital was increased to 825.14 million yen.
F158、F370
1999
A new headquarter building was built in Sengendai 1-chome, Koshigaya City, Saitama.
UL120
2000
Tokyo Office was opened in Ginza 1-chome.
F805
2001
Capital was increased to 1695.77 million JPY, and the company was listed to the 2nd section of Tokyo Stock Exchange.
F156、F395
2002
The Tokyo headquarter office was opened in Ginza 7-chome, and the former headquarter office in Koshigaya-city started to function as a technical center.
UL81、UL84
2006
All stocks of Shoei Densetsu Co., Ltd. and Kyodo Denshi System Co., Ltd. were acquired , and those two companies became subsidiaries.
F381、F720A
2007
The Kyodo Denshi System was changed to Nanotest.
F372、UL82
2008
The majority of Nanotech's' stocks were acquired, and Nanotech's became a subsidiary.
F490、F741-C
2009
Nanotest was merged.
F350
2010
The headquarter office was relocated to Nihonbashi Hisamatsucho, Chuo-ku.
F730
2011
Unipulse Trading (Wuxi) Co., Ltd., was established in China.
2012
Unipulse Asia Pacific Pte. Ltd., was established in Singapore Unipulse India was established in India.
F331、F388、F701-P
2013
MBO was carried out and all shares were delisted from the stock market (all shares were acquired by Mr. Takami Yoshimoto through TOB and so on).
Unipulse Instruments Thailand was established in Thailand.
Nanotex was merged into Unipulse.
Intellectual Property Group was newly established for patent applications and managements.
The production of own strain gauges and load cells was started.
rotating torque meter UTMⅡ(0.05~10000Nm)、 F325
2014
Attended to many trade shows as an exhibitor, and sales of UTMII increased well.
Entered to the final phase for the development of UNISERVO (a geared servo motor with torque sensing capability on the output shaft).
The engineering department at Technical Center was dissolved, and the employees were transferred either to newly-established Production Group or Product Development Group.
GRIP FORCE TESTER(GRIP MASTER)、F820、F735
2015
The former manufacturing plant of Nanotex in Nagano was closed, and the operations were moved to Technical Center.
The control capability for UNISERVO was dramatically improved, and the product was introduced to the market after M-Tech (a trade show) held on June 2015.
Subsidiary company ROBOTEC Inc. was established in Nihonbashi Hisamatsucho, Chuo-ku.
Uniservo with a controller
80W(SVM-80)、200W(SVM-200)
2016
Participated in many overseas and domestic exhibitions.
In-house strain gauges production was started. And production capacity of loadcells was increased.
Metalworking machines such as NC lathe machines, Machining centers, Milling machines and Electrical discharge machines were introducted in order to start in-house metalworking.
High Sampling Rate Indicator FS2000, Weighing Indicator FC1000, DIN-rail Mountable Indicator FC400, High Rigidity and Responsiveness Loadcell SCB (Super Cell), Capacitive Contactless Displacement Sensor PS-IA-HS.
2017
Participated in many overseas and domestic exhibitions.
Production capacity of strain gauges were increased.
MoonLifter went into production.
Many patents were granted in 2017.
Electrical Balancer (Moon Lifter) 60・120・240kg, Linear Encoder ULE-50, Fiber Optic Displacement Sensor ATW200, Eddy Current Sensor UEC-1, 3D Force Sensors, Pre-load Measurement System, New capacity for UNISERVO were added(15W・40W・80W・200W・750W), Parallel-Link Robot went into production.
2018
Participated in many overseas and domestic exhibitions.
Patent applications : 160, Patent granted : 25.
Production of Moon Lifter were increased.
Expand into new markets with a servo press controller.
A Picking cart system with weight inspection,"CMS", sell well in logistics industry.
Electrical Balancer 480kg・960kg・wireless・dust proof models, Uniservo 1500W, 8 scales picking cart(CMS), Light-directed Assort & Pick system(LAP), Compression loadcell(UNBF2), Compact clamping force tester(UCF), Servo press controller(PFA10), Flange type torque meter(UTF), Rotating torque meter(UTMlll 0.05 – 2Nm)
Details of Products:
U Series (U20, U300, etc…): pre-amplifiers for load cells
LC series (LC240, LC610, etc…): load cell amplifiers
F series (F360, F800, etc…): load cell indicators/digital indicators
AM series (AM20, AM30, etc…): DC strain amplifiers:
UL series (UL82, UL120, etc…): portable data logger