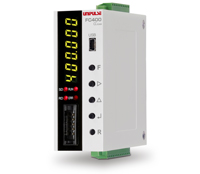 * High-speed A/D conversion and powerful digital processing capability of 1200 times/sec.
* Digital low-pass filter is available!
* Quantitative discharge control function (discharge / feed weighing)/ Convenient function of sequential weighing for auto weighing scales
* Lightweight and compact body to fit into limited space in a control panel/ DIN-rail mountable!
* It can be easily integrated to a Modbus-based systems
* Equipped as standard with CC-Link interface!!
* USB interface for PC connection