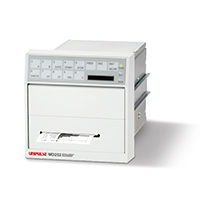 * Weight/ force data of indicator can be printed/ recorded on SD card.
* Data can be recorded in the easy-to-handle CSV format.
* High-level statistical calculation functions such as Grand total, Sub-total, Max. Value, Min. Value, Average, Standard Deviation, Displacement diagram, Histogram can be printed.
* Double recording function that can record data from two indicators (SI/F interfaces are installed in 2 channels as standard)
* 32 types /ch code classification function that can use numerical values.